Connector Packaging
MiTek offers more options when it comes to plate packaging than any other plate manufacturer.
Connector Plates
ORDER ONLINE
When you combine our exclusive nail values, high-quality test-substantiated steel values, and packaging options available only from MiTek, the result is the best connector plate package in the industry. We also offer customers the ability to order plates and parts online. Visit our MiStore for details.
OVERVIEW
Connector Packaging
Banded pack pallets nest and pair plates in groups of 20. As a result, the total piece count per pallet is increased, which in turn reduces physical storage requirements. The complete elimination of cardboard minimizes packaging waste and the banded plates improve productivity by reducing setup and pick times. 
Boxed product is a great choice for customers who want mobile inventory and the ability to order exactly the quantities needed. The smaller box sizes fit under work tables or on space saver racks. Boxed product can be ordered by the box itself, or in full pallet counts (30-36.).
Bulk packaging is a terrific option for high-use, small plates. Available in 1″ – 3″ wide plates, up to 4″ long, these oversized bins centralize storage while reducing cardboard waste.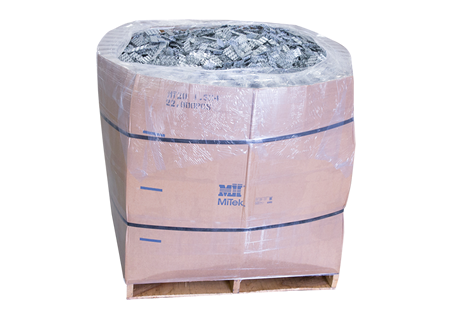 ---
MITEK CONNECTOR PLATES
Make your next job easier with these MiTek connector products

We started with MiTek in 1976 and have built our business over the years with them.

"