GOLD COAT
UNDERSTANDING CORROSION
Corrosion is a complicated reaction influenced by many factors such as dissimilar metals, moisture, and environmental chemicals. However; structural connectors and their fasteners are attacked by corrosion in the same basic electrochemical manner.
Internal Attack: Copper ions found in high concentrations in treated wood are positively charged and actively attack the negatively charged steel. Traditional corrosion protection is a barrier layer of zinc which is more negative than steel and attracts the copper ions, thus temporarily protecting the steel. Unfortunately, once the copper eats all the zinc away, the steel is aggressively attacked. Zinc is a sacrificial delay.
External Attack: Outside factors such as moisture (especially wet/dry cycles), acid rain and chemicals, all serve to accelerate (a catalyst) the attack on the steel
GOLD COAT IS THE SOLUTION TO CORROSION RESISTANCE

MiTek offers anchors, hangers, framing angles, straps and fasteners in Gold Coat for twice the corrosion protection. Our exclusive Gold Coat, is a multi-layer protection system that protects the integrity of the structural connector by offering two layers of corrosion resistance. The top layer is a specially formulated polymer designed specifically for outdoor applications and contact with treated wood.
Gold Coat is engineered to protect structural connectors and fasteners from corrosive environments. The unique approach of pre-coating the galvanized steel prior to manufacturing yields a superior product that is cost effective.
Gold Coat is designed with corrosion inhibitors to address the electrochemical reactions of connector and fastener corrosion. Gold Coat is also uniquely formulated to be flexible, and a patented (pending) application process creates superior adhesion that bonds the Gold Coat to the galvanization. This provides for maximum durability throughout manufacturing, shipping, and installation.
CORROSION RESISTANT FINISHES
MiTek currently offers five different corrosion resistant finishes to cover a range of corrosion performance:
G90 Galvanizing provides a prefabrication coating of 0.90 ounces of zinc per square foot of surface area measured in accordance with ASTM A 653. Fastener: Hot-dip galvanized fasteners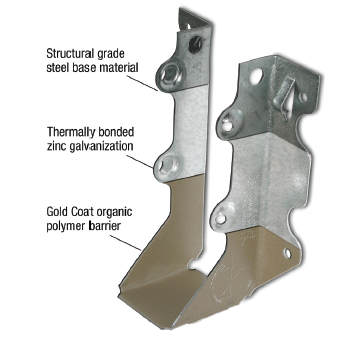 Triple-Zinc Galvanizing provides a prefabrication coating of 1.85 (G-185) ounces of zinc per square foot of surface area measured in accordance with ASTM A 653. Fastener: Hot-dip galvanized fasteners
Hot-Dip Galvanized is a coating that provides an after-fabrication hot-dipped zinc coating. The coating thickness is dependent on the connector material, but generally ranges from 1.1 to 2.3 ounces of zinc per square foot of surface. Hot-dip products meet requirements set forth in ASTM A 123. Fastener: Hot-dip galvanized fasteners
Gold Coat is a proprietary multi-layer protection system. It is comprised of a top coat barrier layer and a zinc layer placed over a steel substrate. Fastener: Gold Coat fasteners
Stainless Steel is the best option for corrosion protection. Quality stainless steel (316SS grade steel) is used to fabricate connectors. Although costs are higher, some applications may need the virtual corrosion proof quality of stainless steel. Fastener: stainless steel fasteners

CORROSION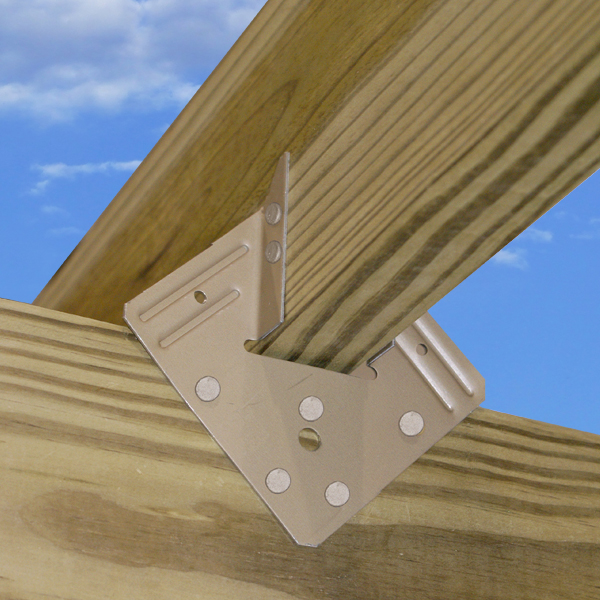 GOLD COAT
LITERATURE
To learn more about Gold Coat connectors and where to purchase, contact Customer Service.
WATCH THIS VIDEO TO LEARN MORE ABOUT ANTI-CORROSIVE TREATMENTS.